Interview with @Enigma_xrd, creator of Roidboiz (roidboiz.io)  and @StefanPersson from the Radix Community
@StefanPersson
CAN YOU TELL US A BIT ABOUT YOU AND YOUR TEAM'S BACKGROUND?
@Enigma_xrd
So the official Roidboiz team is just me for now.
@StefanPersson
CAN YOU TELL US A BIT ABOUT YOUR BACKGROUND?
@Enigma_xrd
In terms of my experience, I have a pretty broad marketing background having been involved in everything from being boots on the ground at tech startups to running national teams for large corporates. So I do everything from strategy, to content creation, to graphic design, down to techie side with web development and SEO. You name it.
This has sort of all been underpinned by an ongoing interest in technology and tech trends from very young. Growing up I was always around computers back when they loaded from floppy disks. I actually studied Comp Science at Uni, so I do have a technical background as well, although I've never officially used it in my career.
For the Roidboiz project, I'm handling all of the core work, around creating the art and promoting them. I worked with the Radix Kickstart team around automated buying. For smart contracts I started talking very early on in the project with Cédric and Remz over at Xidar (https://xidar.io/). Those guys have been playing around on the ledger since day one, and I was really happy that they were keen to partner up to help out. I really wanted to make sure I had this important element under control, since I am not an expert developer as such.
@StefanPersson
HOW LONG HAVE YOU BEEN CREATING ART?
@Enigma_xrd
As I mentioned I've done graphic work for many years, and my digital design skills were really developed through my various jobs. And I've always drawn doodles and done sketches as a means of relaxing and mindfulness throughout my life. But, I actually have to say that this is the first project where I'm 'selling' my art creation as art, as opposed to marketing collateral.
@StefanPersson
WHAT HAS INSPIRED YOUR ARTWORK STYLE
@Enigma_xrd
a bunch of stuff really. The style really combines characteristics of the over the top muscle bound anime characters, like the Super Saiyans, Toriko, Alex Louis Armstrong from Full Metal Alchemist. That combined with the super bulky forms of late 80's early 90's action hero toys and cartoons like GI Joe, Ninja Turtles, X-Men, He-Man.
When I'm drawing I stick to a more relaxed feel, as opposed to really formal uniform designs. So no set stroke sizes, and stuff like that. So I wanted the Roidboiz character design to feel relaxed and casually drawn as well, instead of a very precise technical drawing. This is actually quite difficult to achieve when you're trying to precisely layer all the traits which link together.
@StefanPersson
WHAT GOT YOU INTERESTED IN RADIX SPECIFICALLY?
@Enigma_xrd
I've followed crypto from a distance since pretty much when Bitcoin was starting out. I remember reading an article about the Bitcoin Pizza purchase, and then going and exploring Satoshi's white paper. Over the years I dabbled in Bitcoin and Ethereum, but never did any major investing. Basically, because I was prioritising other stuff in my life. Around 2019 I had started looking into what was happening in the market again. Specifically with Layer 1's, because that is what needs to work, before any of the other stuff can really be useful on top of it. So sometime in 2019 I saw an article about Dan Hughes in Forbes and basically started diving into things from there. Dived into the Radix Whitepaper, which took some concentration. Dove back into various stuff that was being done with eMunie, videos demoing POS systems and the likes. Ended up joint socials and lurking for a while, basically seeing what the community was like. Seeing how the community interacts and is able to take things on at a high technical level when comparing radix to other projects and when figuring out what is going to be possible on Radix.
@StefanPersson
WHAT LED YOU TO CREATE ROIDBOIZ?
@Enigma_xrd
It was a combination of things that really came together, and I had a moment of… "oh this could be a cool idea." 
I'd been on the Radix Telegram (https://t.me/radix_dlt) & Discord (https://discord.com/invite/radixdlt) groups for a while. I'd been sharing content and creating memes on Twitter. I'd also been involved with the DogeCube (https://www.dogecube.io/)  memebrawls each week from when they started back pretty much when Mainnet launched. That was one of the few activities on mainnet back then. I then saw the interest in the Abandoned Scorpions (https://radstrike.com/scorpions/), and to a lesser extent at that time the Nerds (https://nerdsrepublic.net/), both of which I picked up a few.
So I saw that people were interested in content about Radix, and interacting with the ecosystem as a community. So I was just thinking to myself, what would be a fun way to share what is going on around Radix, and pay tribute to people who have been creating the whole community experience.
I had a lot of fun creating the Memes for the DogeCube brawls, and thought the whole play on Cerby (Cerberus) but on Roidz was pretty funny. The DogeCube pack was on occasion referred to as the Roidboiz in the earlier days, and I thought that was really catchy. I started brainstorming what various things could be done around the theme, and as the ideas continued to flow I decided, ok I'm going to do this. ….Because of the linked theme to DogeCube, I had a chat with Mr. Peanutbutter (https://t.me/ALFRED_DULAiRE) who is the creator of the token, and got his blessing to use the concept. The boiz I think were one of the first projects to actually accept DGC as payment at a reasonable rate. I may be wrong there.
@StefanPersson
IS THERE ANYTHING THAT YOU BELIEVE IS PARTICULAR TO THE ROIDBOIZ COMMUNITY?
@Enigma_xrd
So currently the Boiz are generally the strong silent types. We're still finding direction as we grow. With Radix being such a tight community there really is a big crossover between all of the main NFT projects, which is great at this stage. I'd say the Roidboiz group definitely has an appreciation for the limited edition pieces I've been creating. And for sure they're a passionate bunch. Because it can sometimes be quiet while I'm focusing on getting the art done, I'm always a bit surprised actually at the engagement during some of the community events. It's great to see, and I hope I can continue creating art that the group enjoys.
@StefanPersson
WHAT IS YOUR PROCESS FOR CREATING ARTWORK? WHERE DO YOU DRAW INSPIRATION FROM?
@Enigma_xrd
So I guess what is relevant here is my process for the NFT artwork, which is quite different from ad hoc sketching. It's a similar approach to coming up with a marketing creative.
I basically start with a brainstorm session, and in that make growing lists of what might form part of the design. I go on tangents, I might think about a movie reference that comes to mind, then I'll explore what other movie references pop up and I write it down and keep hopping across these tangents. It could be pop-culture references, community references, news commentaries, current events, meme culture, anything really. 
Like all brainstorms, some stuff gets used, some get crossed off.
I think this really comes down to really taking in everything that I come across in all aspects of life. Like when Buff Wild Crew launched, I knew one of the team members was about to have a baby, so I thought… "Hey, why not make a Baby Buff trait to celebrate both occasions."

@StefanPersson
HOW DO YOU START SOMETHING?
@Enigma_xrd
Pretty early on in the process I create very rough sketches of concepts, then I sit back and ask myself which concept really resonates with what I'm trying to portray. Like for the Roidboiz I tried a bunch of different poses, and sizes, and even dog types. So I think everything about the Roidboiz design now gives off the aura or attitude of the Roidboiz; tough, confident, don't mess with me. And once the concept is there it's the technical stuff, a matter of refining and adding details.
@StefanPersson
WHAT SOFTWARE DO YOU USE?
@Enigma_xrd
For the artwork I do the bulk of the work on an iPad in Procreate (https://procreate.art/). I really like the drawing experience you're now able to have on iPads with the Apple Pencil (https://www.apple.com/apple-pencil/). For any effects or touch ups that I notice I run the layers through Photoshop (https://www.adobe.com/creativecloud.html). This is just much easier on a big screen with a lot more tools to work with.
@StefanPersson
WHAT ARE YOUR TOP 3 FAVORITE PIECES THAT YOU'VE DONE SO FAR?
@Enigma_xrd
I'm guessing this refers to the Roidboiz. Hard to choose but I'd say I enjoyed creating Dan Hughes early on, in his coding cave. The play on Deadpool, and actually the most recent legend I released, htomee (https://twitter.com/htomee22). He's probably not the most known community member, but he's been working hard in the NFT circles and for his artwork I was able to throw some fun random things into it because of the projects he's involved with.

@StefanPersson
HOW DO YOU KEEP YOUR MEME GAME SO ON POINT?
@Enigma_xrd
Well memes and the whole generative art thing really do tie back to what I've done in marketing and been able to hone throughout my career. I've developed a bit of a knack for seeing connections between different concepts and how to visualize them. And to make sure I have relevant content it's just a combination of floating around the Radix groups, getting a feel for the various projects and people. That and trolling through popular cultural references. I'm pretty good at remembering random details, so when I am able to throw them into a design it's great to see it receive positive reactions in both the community and the people being represented.
@StefanPersson
DO YOU HAVE ANY THOUGHTS ON NFT UTILITY THAT YOU'RE WILLING TO SHARE?
@Enigma_xrd
I've added utility to the boiz where I can, but the boiz are art first and foremost. For example I talked with Luke from Raduel to see if he may be able to tie traits from the artwork into his game. The nft will also allow access to certain areas in the game otherwise not reachable.
Whitelisting is a useful feature, and creating benefits to the community, providing exclusive access to new cool projects. Project collaborations where holding either project's art would give you pre-sale access to the collaborative artwork. But really, for generative art NFT projects, the art in and of themselves is the utility. Personally, anything beyond the art is a bonus when I'm looking at projects. The way I integrate technology and utility is to create relevant metadata available to allow other projects and systems to make sense of the art, to have the ability to use the art in different contexts if the projects are open to it.
@StefanPersson
WHAT ARE YOUR PLANS FOR ROIDBOIZ'S FUTURE? BESIDES THE BABYLON'S RELEASE, ARE THERE ANY OTHER MILESTONES ALONG THE WAY THAT PEOPLE SHOULD BE EXCITED ABOUT?
@Enigma_xrd
Prior to Babylon, it's really about building relationships with other projects in the Radix Ecosystem, and hitting our various Sales Milestones. 
We have already formed alliances with some great projects, and are always looking for more. These alliances will have unique benefits to Roidboiz holders and holders of the relative projects once we hit Babylon. These will include things like unique art offerings, in-game benefits, discounts, to name a few already lined up. 
We'll be doing giveaways at 25%, 50%, 75%, and 100% sales milestones. We're at 21% reserved now, so hopefully we're not too far off that one. At 75% I'll design some merch that will be won by a handful of the community members.
When the project gets beyond Babylon, and if it is successful, I'd like to further develop the concept of the Gangs of Radix. It's outside of the initial scope of the Roidboiz project, but the slogan is there for a reason.
@StefanPersson
DO YOU HAVE ANY OTHER PROJECTS IN THE WORKS?
@Enigma_xrd
The projects I'm working on right now are all related to Roidboiz. There have been chats about involvement in others, but I'm not taking the lead on any others at the moment. If I do take something on it would have to be something that would not detract from my focus on the Roidboiz.
@StefanPersson
DO YOU HAVE ANY PROMOTIONS COMING UP THAT PEOPLE SHOULD START MARKING THEIR CALENDARS FOR?
@Enigma_xrd
Well that is actually one of the projects I have been working on. A little something that will be exclusive to Roidboiz holders initially.  You may have seen a couple of initial teasers already on our Twitter account (https://twitter.com/Roidboiz).
I know the Roidboiz are holding out for the final artwork, and I'm still constantly hard at work on that. The art is realistically around 80% complete. (It's mainly finishing out the limited editions left and deciding what to keep in the traits) I've mentioned to the Roidboiz community that there are also some details that I'm in the process of figuring out regarding how to handle the limited editions prior to Babylon, in a way that everyone's experience is seamless. Our roadmap is still set for a Babylon release, and I am considering the possibility of accelerating that, but this is something that I will need to work on further and decide on what is best for the project's long term vision, so bear with me on that front.
So with that said I want to give our loyal holders something to enjoy almost right away. And I'm mentioning it here first:
I'd like to introduce the Roidettes. The most Badass B!tches on the Radix Shardspace.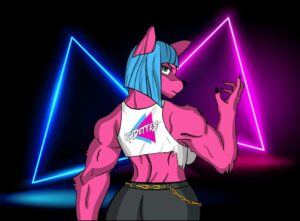 A limited supply of 2,500 randomly generated all-female NFT's exclusively available to Roidboiz holders.
These ladies form the all-female chapter of the Roidboiz gang. Cross them at your own peril… they will kick the ass of anyone who messes with them; including the Roidboiz.
They're tough, intelligent, and a touch volatile.
Tired of waiting for the Roidboiz to get their asses in gear, the Roidettes are showing them how it's done.
Each Roidboiz wallet will be airdropped one of the Roidettes sometime in September* as a thank you for your ongoing support. 
Once the Roidettes are available to purchase towards the end of the month, your reserved Roidettes will be immediately searchable, and tradable to anyone who wants to buy them through the Radix Marketplace. Including non-Roidboiz holders.
Check out: https://roidboiz.io/roidettes or join https://t.me/roidboiz for more details
* To reduce gaming of the airdrop, on 2022-09-01, a snapshot of all Roidboiz holders was taken. Only new wallets which have purchased Roidboiz through the official wallet since then, and up until the unspecified drop date, will be added to the list. Any new purchase wallets which have obvious links to other Roidboiz holding wallets will not be eligible for the airdrop.
@StefanPersson
WHAT OTHER RADIX PROJECTS ARE YOU EXCITED ABOUT OR FIND PROMISING?
@Enigma_xrd
Momentum is really growing in the ecosystem, so it's hard to keep up. Moving away from NFTs first, It's great at a core level to see community based wallets being developed by strong teams. Stream Wallet (https://radix.stream/) has been out a while as both a tracker and a mobile based wallet, and then there's the browser based wallet Z3us (https://z3us.com/), and one by Xidar (https://xidar.io/) is launching soon. That sounds like it will have a bunch of handy features, like showing verified tokens. Allowing multiple transactions in a single transaction. Airdrops, and minting tokens. Their other projects like Radix-Collection are also helping to promote activity on the network, and I know they're about to launch an update for that too.
Of course there is already a race for working DEXs from few teams. And centralised DEXs popping up from Ociswap (https://ociswap.com/), Caviarswap (https://caviarswap.io/), and DogeCube (https://dogecubex.live) are already generating decent trading activity.. DefiPlaza (https://defiplaza.net/) is another one I'm watching. 
There are even aggregators already popping up now. DSOR (https://dsor.io/) and Astrolescent (https://astrolescent.com) have suddenly appeared. The talent in the ecosystem is clearly there.
Radlock (https://radlock.io/) is an interesting idea. Liquidity locking is an important feature for the Ecosystem around building faith and trust in projects.
Radit (https://www.radit.io/) kind of like a decentralized Reddit where people can invest in messages they believe in. It's pretty interesting.
Adept (https://adeptdao.org/) They're creating tools for community management and for helping people form DAOs.
Impahla (https://www.impahla.io/) They're a launchpad.
Back to NFTs, I'm really interested to see what capabilities the Marketplaces deliver. Tools like Radix Kickstart (https://radixkickstart.com/) and their new Radix Marketplace (https://radixmarketplace.com/) have really helped creators in this pre-smart-contract time. Alan is really doing some innovative things with NFT trading over there. Their user interface aesthetic has been a bit rough to date but that's fully acknowledged by the team. He's been building the engine, not the body. And now he's growing a strong team including a front end designer, so I expect to see some exciting changes there.
Radish Eco (https://radish.world/), sound like they have big plans, and are building a good community. The first look at Foton (https://foton.is/) looks tidy, as expected from Vlad. I'm looking forward to seeing what both these projects are able to deliver.
And as for my top NFT's, for art: Nerds (https://nerdsrepublic.net/), Penguins (https://radicalpenguins.com/), Radical Robos (https://www.radicalrobos.com/). The Gnomes (https://t.me/TheGnomeSociety) look like they'll be quite fun too from some of their teasers.
@StefanPersson
IF YOU COULD GIVE ANY ADVICE TO SOMEONE WHO IS CONSIDERING BUILDING THEIR PROJECT, ON RADIX OR OTHERWISE, WHAT WOULD YOU TELL THEM?
@Enigma_xrd
In terms of general advice I think it's a bit of a cliché now, but really you need to just do it. If you have an idea, put pen to paper, set your goals and commit to it. It's so easy to have great ideas, and then have them drift off as life continues. I've been guilty of that in the past.
For building on Radix, I'd say really get involved with the community where you can, and become part of it. There are so many truly friendly, generous people out there that even if you don't end up creating a project, they are worth knowing at a friendship level. We're still at a point where the community can be like a family. There are so many great people known in the community that are more than willing to share advice. There is a wealth of knowledge, so reach out.
Links